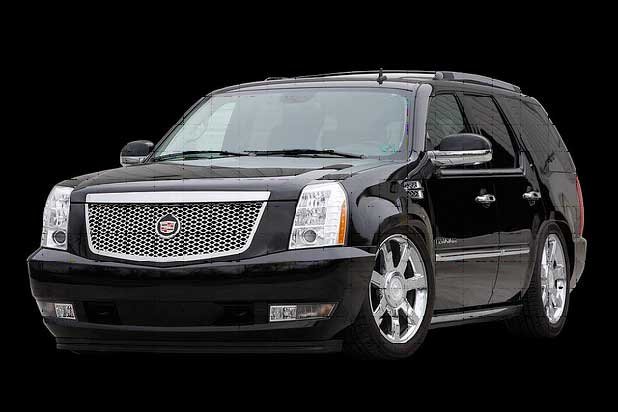 If you are looking to enhance your ride with a little glitz, gleam and grace, you cannot go wrong with a little - or a lot - more chrome, like the shimmering grill and other Cadillac Escalade accessories pictured here. Chrome can be pricy, though, so unless you have a very healthy budget, you will have to pick and choose which car accessories you add. Determining the best chrome accessories to complement your car will help you spend your money wisely and get the best bang for your buck.
You cannot talk about chrome car accessories without mentioning wheels. Chrome rims might not be the most inexpensive of accessories, but they certainly can be a good investment. The state of your tires is a major factor in the overall safety of your vehicle, and chrome wheels not only look stylish, but they are also durable and reliable, providing an extra measure of protection between you, other drivers and the road. In addition, they come in a wide array of designs, so you can select a style that suits your taste.
Exhaust tips are another popular chrome accessory. If you have an upgraded vehicle package or have improved it yourself by installing and aftermarket exhaust system, chrome tips are well worth the price. You will love the way they look and you will not have to worry about them rusting or rotting away.
Not all chrome car accessories are high-dollar ones. There are dozens available that are easier on your wallet while still enhancing the appearance of your vehicle. For instance, chrome emblems, gas door covers or door handle covers give you just enough bling to make a difference, and many of them can be had for less than 20 bucks.
Before you shop for any type of car accessory, it is wise to establish what you need, what you want to improve upon and how much you would like to spend. Then you can shop around to find the best deal or coolest part knowing exactly where you stand.