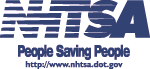 Safety Fact Sheet
---
Comprehensive air bag plan
These are the key steps to date in the Department of Transportation's comprehensive plan to preserve the benefits of air bags while reducing their risks:
May 1995: The National Highway Traffic Safety Administration allows automakers to install on-off switches on new cars and light trucks that have no rear seats or rear seats that are too small to properly accommodate a child seat.
May 1996: NHTSA launches the Air Bag Safety Campaign, a public-private coalition involving automakers, insurance companies, suppliers and safety groups aimed at educating people about safe transportation in vehicles with air bags.
November 1996: NHTSA requires that bold new labels with explicit air bag safety warnings be installed in all new vehicles and on child safety seats. Automakers also agree to mail copies of the new labels to the owners of air bag-equipped vehicles that already are on the road.
December 1996: NHTSA extends for two more years, until August 31, 2000, its policy allowing on-off switches in vehicles that cannot accommodate a child seat.
March 1997: NHTSA gives automakers the ability to more quickly reduce the power of their air bags by 20 to 35 percent. Automakers have said they will be able to install reduced-power air bags in most 1998-model vehicles that need them.
November 1997: NHTSA allows consumers fitting certain risk profiles to purchase an on-off switch to temporarily deactivate air bags when needed.
First half of 1998: NHTSA plans to issue a proposal for new air bag testing procedures that will lead to more advanced air bag systems.