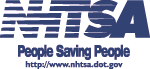 Safety Fact Sheet
---
How to get an on-off switch
1. Obtain and read a National Highway Traffic Safety Administration information brochure and a request form. Both will be available at vehicle dealerships, repair shops, state motor vehicle offices and other locations.
2. Fill out the request form and send it to NHTSA. Vehicle owners must certify that they have read the brochure and that they, or someone they transport in their vehicle, are in one of four groups of people at risk.
3. NHTSA will send an approval letter to the vehicle owner.
4. Take the approval letter to a vehicle dealership or other service outlet to have an on-off switch installed. The switch that is installed will only be able to deactivate the air bag(s) that affects the person in the risk group. The service outlet will inform NHTSA when the work is done.